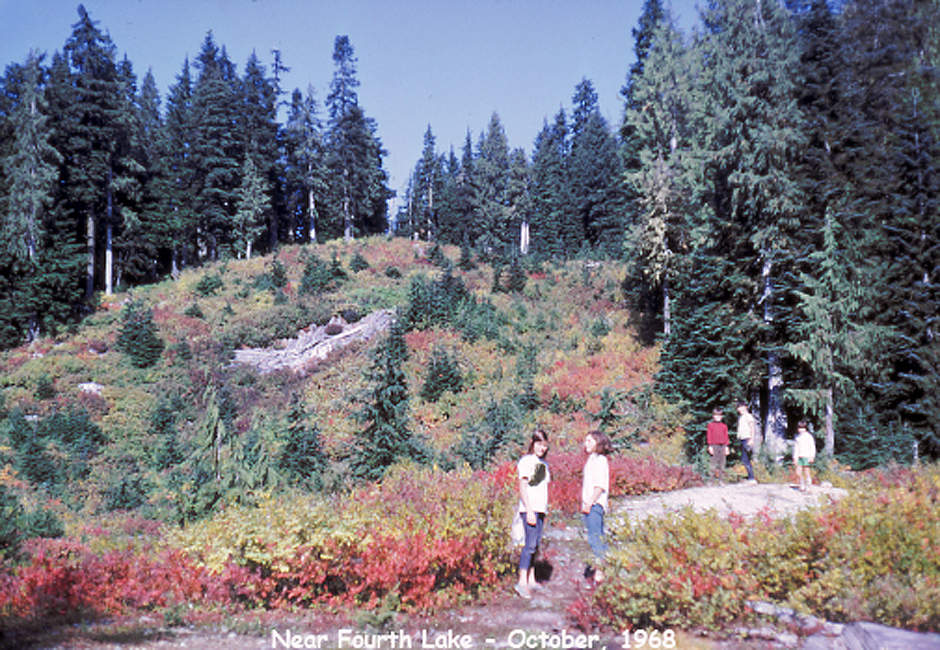 The Trail To Hollyburn Peak (Photos & Video)

Hollyburn Peak has long been a popular destination for Vancouver's hikers. Before improvements to the Heaps logging road made truck transport possible in the early 1940's, hikers began their trek from the Hollyburn ferry wharf at Ambleside, West Vancouver. Today, the hike begins at the cross-country parking lot on Hollyburn. Hikers throughout the decades have enjoyed rest stops at a number of small lakes on the Hollyburn plateau. In the early 1900's, loggers dammed these lakes and connected them with ditches in an unsuccessful effort to provide an adequate water supply for the flumes further down the mountain. After a steep climb to the Hollyburn shoulder, many hikers pause by a group of small ponds before making the final push to the summit. Those who have brought a lunch often share their meal with ravens and whiskeyjacks.
Photo Group 1
Photo Group 2
Climbing To Hollyburn Peak - Summer 1940 (Alf Staley)

This film, taken by Alf Staley in 1940, begins with scenes of people cutting firewood for a cabin stove. After a swim in First Lake, a hiking party climbs and descends Hollyburn Peak. Although these home movies were taken over 70 years ago, the scenes will be very familiar to Hollyburn cabin owners today. To access a larger screen, click on "vimeo".

Climbing to Hollyburn Peak - Fall 2004 (Don Grant)

The video, "Climbing to Hollyburn Peak - 2004" is a good introduction to viewing historic Hollyburn photos because it helps connect our 'present' experience on the mountain with photos taken decades ago. We hear the sounds and see the colourful alpine landscapes that the photographers of long ago experienced. To access a larger screen, click on "vimeo".
| | |
| --- | --- |
| This film, taken by Alf Staley in 1940, begins with scenes of people cutting firewood for a cabin stove. After a swim in First Lake, a hiking party climbs and descends Hollyburn Peak. Although these home movies were taken over 70 years ago, the scenes will be very familiar to Hollyburn cabin owners today. | The video, "Climbing to Hollyburn Peak - 2004" is a good introduction to viewing historic Hollyburn photos because it helps connect our 'present' experience on the mountain with photos taken decades ago. We hear the sounds and see the colourful alpine landscapes that the photographers of long ago experienced. |